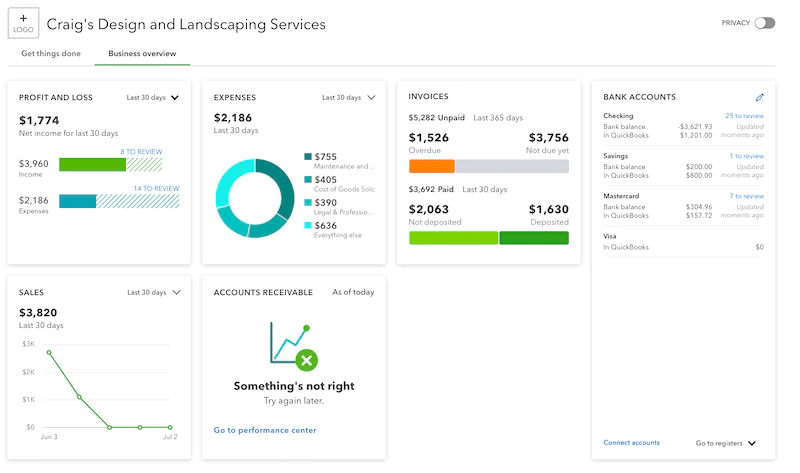 QuickBooks Online is a lot easier as compared to Quicken. The dashboard of QuickBooks Online includes many beneficial features such as a breakdown of unpaid customer invoices, profit and loss, overall expenses, sales, etc. Furthermore, there are eight crucial sections on its dashboard that are:
Left Menu Bar: This feature offers users to create invoices, view reports, and manage bank accounts.
Plus Button: With this, users can add their company logo for branding the QuickBooks account.
Profit And Loss: There is no need to run a report for determining the profit and loss, users can use this tab.
Expenses: This tab consists of all the business expenses for a specific time including the three major categories – Job Expenses, Product Costs, and Maintenance & Repairs
Invoice: The invoice tab permits users to ascertain how much the customers owe them i.e. Accounts Receivable. Also, the collected payments that you've already deposited vs. awaiting funds.
Sales: Monitor your sales periodically over the year to recognize trends and thereafter implement the adjustments needed.
Bank Accounts: This section shows all of the linked bank accounts and credit cards with a breakdown of the balance per bank.
Time Tracking: To track the worked hours with QB online, this feature is quite useful.
Also See: QBDBMGRN not running on this computer.